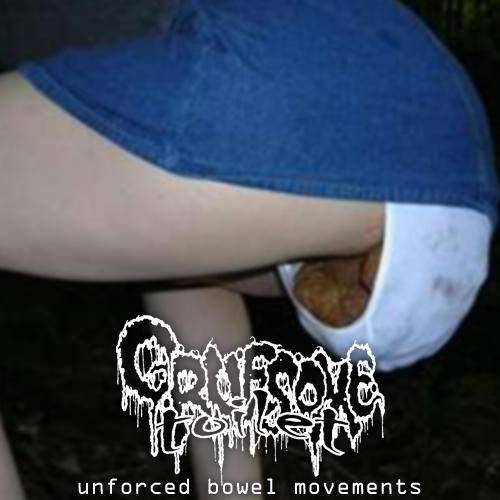 It's that time of year again and you can feel it in the air. Fetishes, mental issues are always prominent and this split proves it. From lack of motivation to tranny domination. Tracks about dumping to tracks about humping. It's all here. Have fun trying to get through this one.
Gruesome Toilet - "Unforced Bowel Movements"
Nihilistic gutter travelogue
Curious giblets
Forcing my head into a hole where your cunt used to be
Reach in and grab another turd from Santa's knapsack
Cavernous anal spelunk
Cumstipated7-No real effort on my part
Bathtub facedive set on repeat
Glocalize maximum birth control
Grounds for bodily divorce
Protoseptic infants
Eternally bleeding forehead
Compulsive selfdeterioration
Color me unimpressed
Diarrhea primavera*
Second flush same as first*
Thriftshop fetus*
Writing 'fuck off' inside every tape you put out is gay*
Liquiduct bird feathers*
Bowlplankton*
Embryo (throat, drum prog, all flushing*)
Styv Pekari (guitarz & viscous skanks on trx 1-14)
Exquisite Shemale - "Sperm Spurtin' Shemales Vol. 6"
Kathoey Dangle (One Night In Bangkok)
The Sao Paulo Surprise (She-Male Samba Mania)
Lackluster Hetero Fuck (Potent Tranny Hootenanny)
Unnecessary Diaphragms (PMS Denied)
Idolizing Kamila Smith (Rockhard Asylum)
Get Your Tongue Pierced*
More Than A Woman*
12.5 Incher*
Cum On My Face (Motley Crue cover)
Good Tranny/All Night (Jewel cover)
Down Ronda (Rage Against The Machine cover)
Muffy Diamond does every(one)thing
* labeled tracks feature Vonnaris Vixen on guitars & Muffy Diamond everything else
POUND